Sunset Art Studios is an arts non-profit in Dallas, TX focused on social practice.
Through our work we operate an artist-run studio space, residency and gallery where we focus on object-making and the artistic process as access points for empowerment. Our space moves towards establishing sustainable systems of celebratory inclusion and support.
Since co-directors Emily Riggert and Rachel Rushing opened in May of 2016, Sunset Art Studios has increased access to the arts in southern Dallas with area partners.
We do this by providing free studio space to artists who identify as a part of marginalized groups and offering free community arts programming to reduce geographic and social barriers of seeing and engaging with art.
Sunset Art Studios continues to evolve and grow prioritizing the need to explore and resist systemic exclusion from the arts. Our strategy for fighting against traditional hegemony in the art world (re: white supremacy and the patriarchy) includes an inclusive artist sustainability program, residency program, and public programming.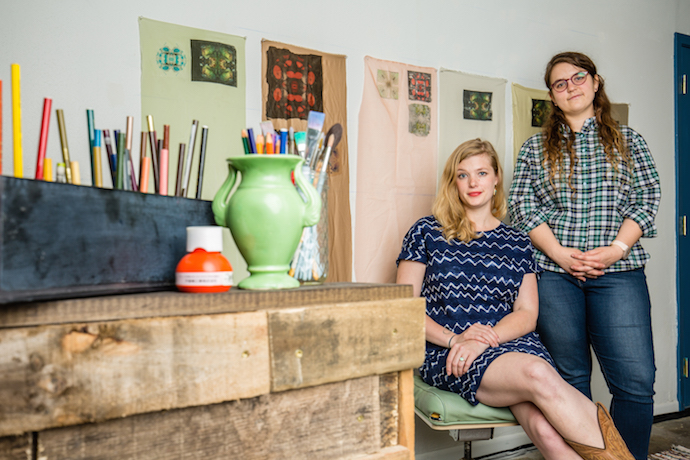 Our board
Bill Farrell

Ofelia Faz-Garza

Giovanni Valderas
In our first year of operation we were funded by the CADD FunD! and the City of Dallas Cultural Vitality Program. These, along with commission-based work and institutional partnerships, funded our first year allowing us to support 6 area artists in new work, who have gone on to exhibit across the region.

Programming
Our initial funding also allowed us to provide free community programs including promoting responsible dog ownership in Oak Cliff, creating an arts-based haunted house, holding receptions in our Elmwood neighborhood for each artist we were able to support, create a podcast, and more.
Studio membership
Throughout our second year, in addition to maintaining our previous programming, we have focused on establishing a long-term community of artists by providing affordable, rentable studio space, regular critique nights for feedback and support, and opportunities for mentorship and social support with us and other area artists.
Fundraising
We are proud that fundraising has become an integral part of how we can support our community. In our first year we held the Nasty Women Exhibition: Dallas Edition as part of an international movement to promote women-identifying artists and fund area non-profits. Our exhibition raised almost $3000 in one night for the Dallas Area Rape Crisis Center.
We were also able to host an exhibition of artists with connections to Puerto Rico and raise money for Beta Local, a Puerto Rican artist collective that has been working since the storms to sustainably rebuild on the island.
Residency
Sunset has continually hosted artists in residence since we opened the front door.
Residents at Sunset receive private studio space for one to three months, and in collaboration with Riggert and Rushing, these artists create community programing that allows the public to interact with their work. This has taken the form of photo booths, neighborhood clean up walks, movement classes, library maker days and community festivals in our outdoor space. Each resident uses the results from their community programming to create their culminating artwork that is displayed at their closing receptions and open studios for the neighborhood. Each resident has the opportunity to engage in critique and coaching with the Sunset community as they continue to develop their work.